In 2002 JML Property Services (The trading name of Jeffrey Milner Ltd established in 1979) set up a web site for UK rented property insurance.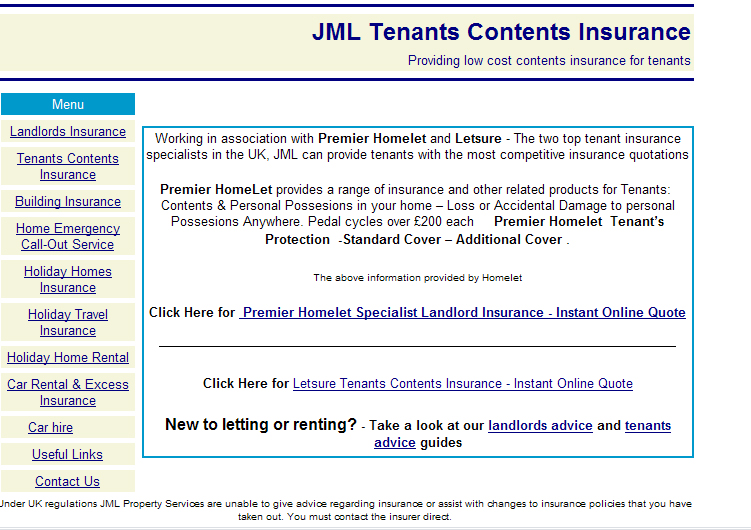 This site originally sold Landlord & Tenant insurance products (Homelet and Letsure) and has been very successful. jml added Holiday travel insurance via Direct Travel Insurance and insurance4carhire.com – a company offering an annual insurance policy for people renting a car who only pay once for excess insurance on car rental instead of every time they rent. Many more insurance companies are now ther including, Endsleigh, Intasure, Rentshield, Copeland insurance, Essential Travel and more.
In May 2007 a brand new site was lauchned that is easy to use and has advertisements for a great range of insurance products including Overseas and UK holiday home insurance, travel insurance, business insurance, wedding insurance, boat insurance, pet insurance and more. Click on image below to enter this site
Director Philip Suter is following in his grandfather Frederick Milner's footsteps by being involved with the insurance industry. Initially back in the 1980' and 1990's working in the lettings agency business selling Letsure landlord and tenant insurance policies. In 2002 this was transferred to the online business.
.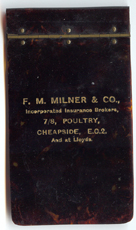 Frederick Milner ran a very successful insurance brokers up until the late 1930's F. M. Milner & Company Incorporated Insurance Brokers in the City of London, that was based at 7/8 Poultry, Cheapside, EC2 and at Lloyds.

jml is a trading name of jml Property Services (Jeffrey Milner Ltd)
Statutory Company Information for websites:
jml Property Services, jml insurance, euro-rentavilla.com, euro-rentals.com, insurance4carrental.com, cotedazur rental.com are trading names of Jeffrey Milner Ltd.
Established 12th January 1979 under Companies Act 1946 to 1976
Registered in Cardiff, Wales.
Company Registration No. 1408847
Data Protection Registration Number: Z5675129
Contact address: Kildare, Chapel Hill, Speen,, Princes Risborough, Bucks.HP27 0SP, England